Black Box Delivers Emerging KVM Technologies in MCRs, Remote and Post Productions
KVM (keyboard, video, mouse) solutions played a vital role in 2021 by enabling the media and entertainment industry to take on significant new challenges, such as social distancing and remote access. As we move into 2022, those challenges continue and they are driving further advances in adoption of KVM over IP technology and virtualization.
At booth #B6.228, Black Box will feature its Emerald KVM-over-IP solution, which serves as a universal connectivity system to both physical and virtual machines. Emerald enables greater efficiency, easy collaboration across distributed locations, and reduced on-site teams. Users enjoy more productions with better quality and creativity when taking studio programming to air.
Talk to the KVM experts at Hamburg Open, request a free event ticket or schedule individual local appointments.
Black Box Solutions Featured at Hamburg Open
---
Black Box will highlight its Emerald® KVM over IP platform, which provides broadcasters with the exceptional flexibility, security, and low bandwidth-usage essential to state-of-the-art KVM extension and switching. The universal access system connects remote users to both physical servers and virtual machines (RDX/FX Remote, PCoIP/PCoIP ultra) over a LAN, WAN, and even the Internet. The Emerald Remote App turns any Windows 10/11 device into a KVM receiver, which facilitates and accelerates 24/7 system admiration. With complete interoperability between all Emerald units no matter if your resolution is 4K or HD video, and whether or not you are using external controllers, users receive an easy-to-use system to creatively collaborate and become more productive – anywhere, anytime, with any system.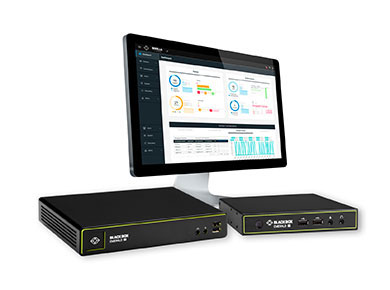 ---
Black Box launches its latest edition to the Emerald KVM-over-IP KVM platform. Emerald GE provides cutting-edge technology to enable multiple users to connect simultaneously and control a virtual machine (VM) just as they would a physical system. The Emerald Gateway leverages PC-over-IP (PCoIP®) and PCoIP Ultra technology to support virtual machine sharing and to ensure a secure, high-definition, and highly responsive computing experience. Black Box Emerald GE unlocks collaboration across physical and virtual machines – a feature that was highly requested by Broadcast companies to allow multi-user collaboration in remote production.
---
Black Box will demonstrate how its Boxilla® enterprise-level KVM manager is changing the way businesses deploy, configure, monitor, and manage equipment on their networks. Integrated with solutions such as the Black Box Emerald KVM-over-IP or DKM Direct-Connect platform, Boxilla provides an intuitive interface for monitoring system performance, configuring proactive security alerts, checking on real-time device status, and identifying active devices, connections, and users, as well as their current bandwidth usage. Offering a precise view of network bandwidth, Boxilla also provides at-a-glance access to dropped frames, round-trip time, and other critical system and device data.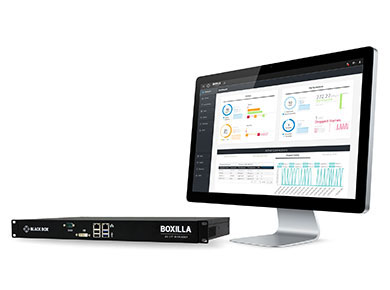 ---
ControlBridge is a complete multisystem control panel for control rooms and any user desk. A single touch panel enables control of KVM, AV, and other devices to let users conveniently switch between sources, change video settings, access video wall controllers, and set room conditions. Individual presets activate complex configuration with the touch of a button to prepare for a new production.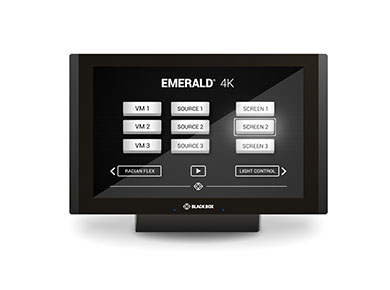 ---
Black Box Freedom™ II is a keyboard and mouse switch that provides Glide-and-Switch Computer Control of up to four or eight different computers and their directly attached screens from one keyboard and mouse. Switching between the systems is as fast and easy as moving the mouse cursor from monitor to monitor. This saves desktop space and improves user response time. Freedom II can act as a stand-alone KM switch or add Glide-and-Switch functionality to the above KVM-over-IP solutions to optimize situational awareness in control rooms.